According to the report, global demand for anti-aging market was valued at USD 140.3 billion in 2015, is expected to reach USD 216.52 billion in 2021 and is anticipated to grow at a CAGR of 7.5% between 2016 and 2021.
Aging is achieved by a cycle of different biochemical procedures in the body that influence it, both internally and externally. These biochemical procedures cause the body to degenerate over a timeframe, affecting the wellbeing, wellness and physical appearance of an aging person. Anti-aging is the delay, stop or retard the aging process. Recently, there has been the significant increase in the anti-aging phenomenon.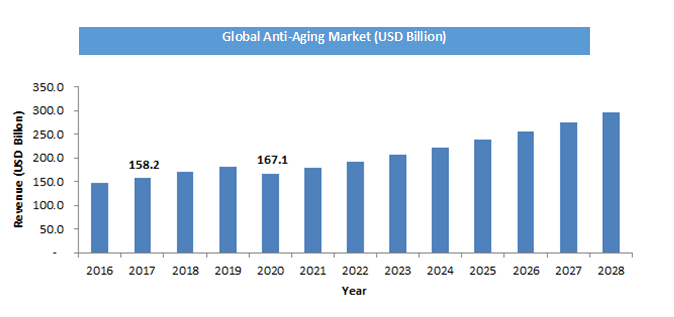 Increasing aging population worldwide is major driving factors for the anti-aging market. Strict regulations have led to the introduction of safe and efficient anti-aging products and services in the market expected to drive the anti-aging market in the near future. Furthermore, increasing consumer demand for anti-aging products and technical advancement in anti-aging services are the factors that drive the growth of the anti-aging market. However, consumers are still doubtful about some of the anti-aging services and products this factor can hamper the market growth in future.